Members biographies: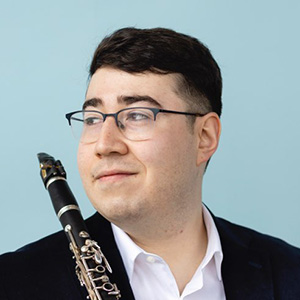 Clarinetist and bass clarinetist DAVID VALBUENA is a versatile and compelling musician that has performed throughout the US, Canada, Europe, and China. He has performed with many prestigious ensembles including the American Composers Orchestra, Lucerne Festival Academy Orchestra, Binghamton Philharmonic Orchestra, and in the 2018 Off-Broadway revival of the Fiddler on The Roof in Yiddish, both in the pit and on stage as a klezmer musician. His festival appearances include, The Endless Mountain Music Festival, Montreal New Music Festival, NYC Electro-Acoustic Music Festival, and the Bowdoin International Music Festival. He has recorded for New Amsterdam Records and can be heard on ShoutHouse's most recent album, Cityscapes. Equally passionate about Music Education, David has held residencies at several NYC public schools as a bilingual teaching artist. He holds a Master of Music from the Manhattan School of Music and a Bachelor of Music from Queens College where he studied with Charles Neidich and Ayako Oshima.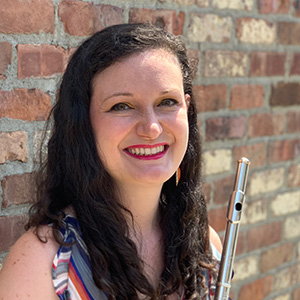 Flutist KIM O'HARE BONACORSA, a New Jersey native, is an avid orchestral and chamber musician based in New York City. She regularly freelances with Harrisburg Symphony, Wicked on Broadway, and Lancaster Symphony, among others, and has worked as a professional consultant for the television series Mozart in the Jungle. She recorded flute and piccolo for the NBC television broadcast of A Very Wicked Halloween to celebrate the Broadway production's 15th year anniversary. Internationally, she was chosen to perform as a soloist in Nice, France, at the Nice Academy of Music. Each summer she travels to Austria to perform with the AIMS Festival Orchestra, as well as hold the position of Assistant Orchestra Manager.
Kim combines music and social activism and performs solo recitals in an effort to bring attention to a variety of issues in our current political climate. All proceeds benefit the ACLU, and she continues to plan politically motivated recitals each year.
Kim earned her Master of Music degree from New York University and her Bachelor of Music degree from The College of New Jersey. She directs a flute ensemble and maintains a private teaching studio.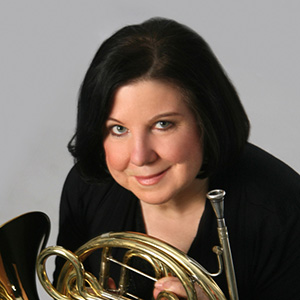 Horn player BARBARA OLDHAM is a founding member of Quintet of the Americas. Her other appearances as a chamber recitalist include performances with Chamber Music Northwest, the Marlboro Music Festival, St. Luke's Chamber Ensemble, and Festival Brass. She has presented recitals at the Bronx Museum of the Arts, the Library for the Performing Arts at Lincoln Center, the American Landmark Festivals, and has appeared as a soloist at the Westchester Chamber Music Festival and with the Contreras Chamber Ensemble. She was the recipient of a 1999 Brooklyn Arts Council Individual Artist Grant for a series of recitals in Brooklyn. She has served as principal horn of the Orquesta Sinfónica de Colombia in Bogotá, Opera Northeast, National Symphony of the Dominican Republic and as a member of the Queens Symphony and West End Symphony. Active as a freelance player, she has performed with the Brooklyn Philharmonic, Long Island Philharmonic, Radio City Music Hall, Dance Theatre of Harlem, Joffrey Ballet, Royal Winnipeg Ballet, and on Broadway for West Side Story, Woman of the Year, Cats, and Aspects of Love.
As a member of Quintet of the Americas, Ms. Oldham has performed in hundreds of concerts in tours across the United States, South America, the Caribbean, and Europe. Her activities include researching repertoire from Latin America and developing educational programs and workshops. She has served on the music advisory board of the Americas Society in New York City, and the Latin American music committee of Queens Symphony. In addition to New York University, she is on the faculty at Brooklyn College and Summertrios, and has taught beginning band to elementary school students in a public school in Brooklyn as part of Project Arts.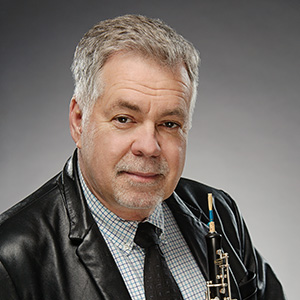 Oboist MATT SULLIVAN has performed extensively on four continents and is recognized internationally as both a virtuoso performer and teacher, as well as an important advocate for the modern oboe. The New York Times has praised his gorgeously lyrical playing and the New Yorker has called his inventive programming the cutting edge. As composer, his innovative works created for oboe, English horn and digital horn, along with his solo and chamber music performances and compact discs, have been featured on National Public Radio and on Voice of America. In addition to his active teaching and solo recital schedule, he is a member of Musicians Accord, the Richardson Chamber Players (Princeton University), the Westchester Chamber Orchestra, First Avenue, and Heliosphere. He serves as Assistant Professor of Woodwind Studies – Director of Double Reed Studies at the Steinhardt School of Culture, Education and Human Development, Department of Music and Performing Arts Professions at New York University. He is also a teaching artist at Princeton University Matt is a Performing Artist for Boosey & Hawkes Musical Instruments and plays exclusively on Buffet Oboes. For more information, see Matt's web page at http://www.oboematt.com.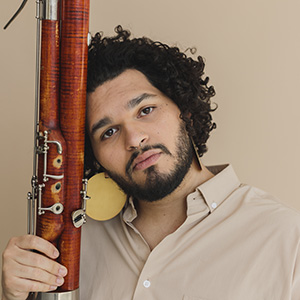 Bassoonist ALEXANDER DAVIS, New York City-based musician whose artistic intentions center on space-making, connection, and community building within classical music. An advocate of creating equity in the arts, Alexander is the founder and Artistic Director of the Sugar Hill Salon, a chamber music series showcasing black and brown wind artistry based in the culturally robust community of Harlem, NY, and on the stolen traditional territory of the Lenape Nation (www.sugarhillsalon.com).
Alexander performed in the first all-black orchestra to ever hold a concert in the history of Carnegie Hall's existence with the Gateway Festival Orchestra in April of 2022. He has played in orchestras such as The Knights, Harlem Chamber Players, American Composer Orchestra, Albany Symphony, Detroit Symphony Orchestra, Princeton Symphony Orchestra, Orpheus Chamber Orchestra, Erie Philharmonic, CityMusic Cleveland, Tertulia Chamber Music, Sherman Chamber Ensemble, The North Country Chamber Players, and Metropolis. He has performed in summer festivals such as Tanglewood, Ensemble Evolution, Banff Music Festival, Norfolk Chamber Music Festival, Maine Chamber Music Seminar, and the Imani Winds Chamber Music Festival. Alexander is adjunct bassoon faculty at Montclair State University, the Mannes School of Music Prep, and Usdan Summer Arts. He holds a Bachelor's Degree in Music Education and Performance from SUNY Fredonia, a Masters in Performance from Stony Brook University, a Performers Certificate in Orchestral Performance from Manhattan School of Music and is currently a Doctoral Candidate of music at Stony Brook University. He has studied with bassoonists Laura Koepke, Frank Morelli, Bob Williams, and Michael Ma.